We at Adssets have been working hard to continue evolving our platform ACM to suit your needs. Today we're launching two new staggering features, Ad scheduler, and Individual image tracker! While this may not sound a lot, these features are incredibly powerful and allow you to work a lot more efficiently; here is how these features will help your workflow:
Ad scheduler
Prepare the ad, choose when to update the ad creatives, let ACM do the rest! Never again do you have to sit by your computer at a specific time.
Individual image tracker
Track your ads accurately by applying a tracker for each individual image. Find out which image is the one that brings the most attention!
How does it work?
Ad scheduler
After creating an ad, there will now be a new button "Add schedule" in the Live Editor which allows you to set a specific time for publishing new changes. This means that you can schedule changes in images, text, links etc. and not having to worry about manually updating the ad yourself at a specific time, ACM does it for you!
Once you've updated the creatives you want to change, click on the button "Add schedule".

Select when you need the update to happen, and click "Done" confirm the set time.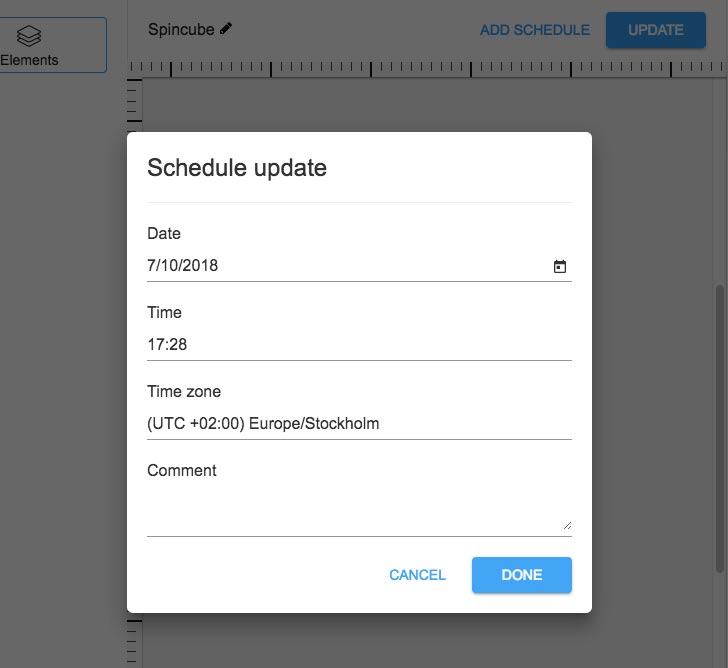 The "Schedule" button is now available, click it to schedule your changes. To edit the scheduled time, use the "(edit)" button to bring up the schedule dialog again.

You can see when your scheduled ads will be updated in your "ads list". To see all the upcoming and past changes, find the menu button to the right of each ad entry, and select "Schedule history".


This will come in handy when you have that campaign that has to go live 5 am, Saturday morning, you're welcome 🙂
Individual image tracker
We can help you add an impression tracker per image. Please send us a message in the chat if you want this implemented to your account.
As always we are here to improve the system according to your needs, so if you have any suggestions for improvements, please let us know.