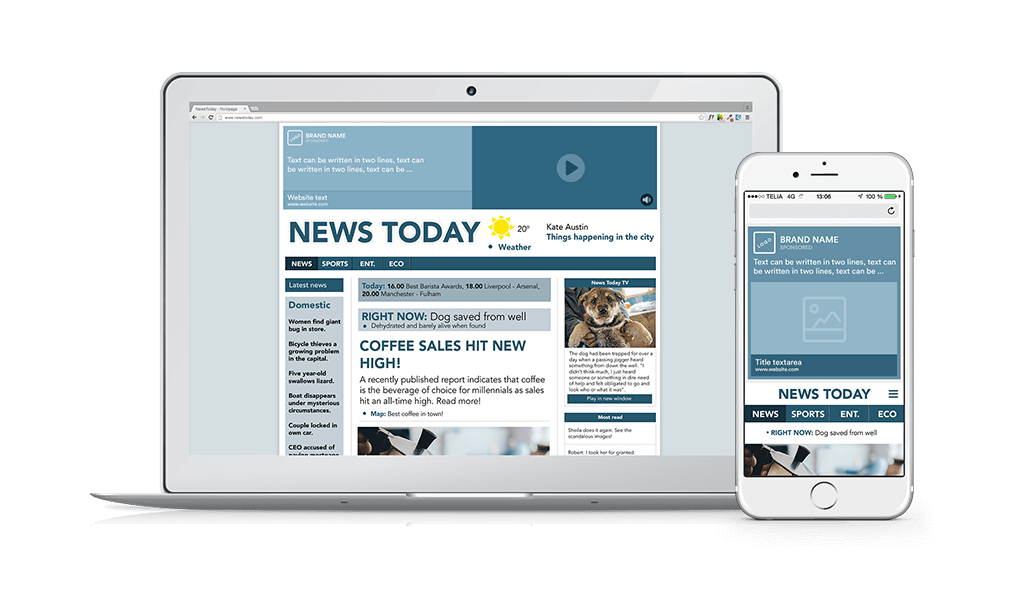 Embrace is an Rich Media ad format for mobile & desktop environments that gives the ad a refined look and feel. The ad format will use the uploaded contents full width in sizes 300×250 and 970×250, excess height might get cut off. In size 300x600px the ad format takes the uploaded contents full height, excess width might get cut off. By clicking on the CTA-area the user can be linked externally. The brand name and icon can be linked separately.
Ad format specifications:
– 1 image/video (any sized content is possible to upload but below is the sizes for optimal resolution):
– Ad size: 300 x 250px = image/video size: 290 x 130px (or retina 580 x 260px)*
– Ad size: 300 x 600px = image/video size: 282 x 433px (or retina 564 x 466px)*
– Ad size: 970 x 250px = image/video size: 485 x 250px (or retina 970 x 500px)*
– 1 brand logo, 1:1 aspect ratio, minimum 50 x 50px (or retina 100 x 100px)*
– Brand name, max 17 characters.
– Description 85-140 characters (amount of characters changes depending on chosen ad size).
– Headline, max. 30 characters.
– Website (plain text), max. 35 characters.
Image should be uploaded as jpg or png.
Video should be uploaded as mp4. 
*There is no maximum weight limitations in ACM. It is the publisher/media agency/advertisers responsibility to make sure that the final ad does not exceed the sites weight limitations. To set a weight limit per account, please contact us.
Suitable for:
Branding
Casino
E-commerce
Jobs
Real Estate
Travel & Destination